Best Call Centre Predictive Dialler
A predictive dialler is designed to improve your outbound campaigns efficiency by effectively dialling your leads whilst screening unproductive calls such as answering machines.
Book A Demo
What is a Predictive Dialler?
A predictive dialler is an automated dialling tool that dials multiple leads at a time, screens the calls for unproductive tones, and passes human answered calls to the agents. The dialling technology uses algorithms to determine between productive and unproductive calls whilst working in tandem with the business and compliance needs. This increases the agents' productivity by ensuring that they are connected to a client. Most modern systems are cloud based predictive diallers. That is, they are securely hosted solutions that allow agents to login remotely.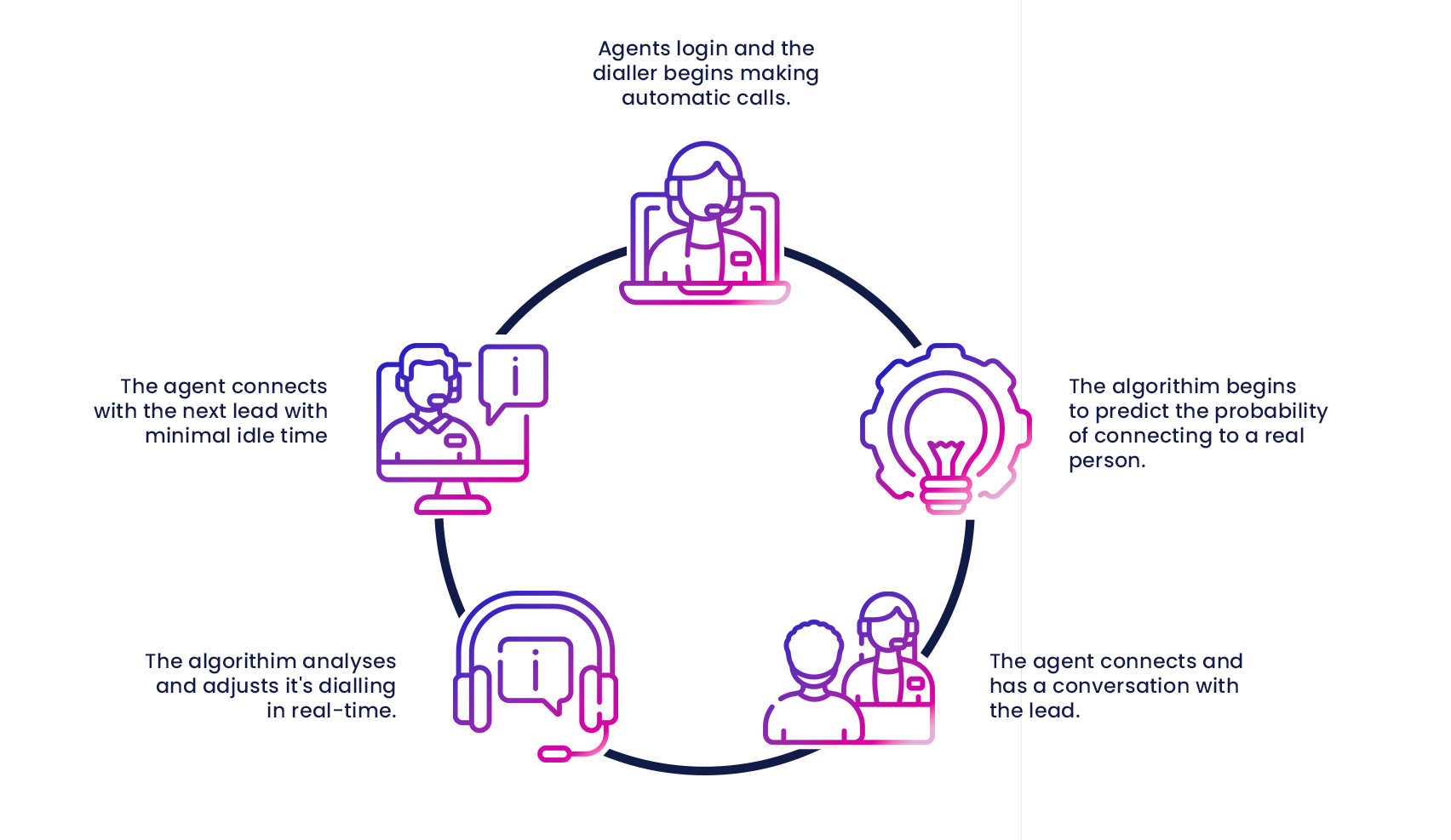 How Does a Predictive
Dialler
Work?
1) Agent(s) login to their campaign and the system starts to automatically dial calls for the team.
2)The algorithm begins its work in the background and starts to predict the probability of connecting to a real person. This allows the dialler to know how many calls to place and when.
3) Live answer calls are passed to the agents. This allows the agent to have a productive phone call rather than being met with no answer.
4) The algorithm continues to work in the background and is continually adjusting its dialling pace including when and how many leads to dial.
5) The agent has finished the previous call and completed their after-call work. They are now ready for the next call and are presented with a connected call that the dialler has ready.
This process is simple for the agents as the work is done automatically by the dialler in the background. This ensures that the agents' time is spent on live calls with real people.
Why Invest?
Investing in Predictive dialler software has a lot of benefits that help both staff members and the business in multiple ways. The ability to make more calls, have a greater connection rate, and full transparency of reports, all while saving money and increasing productivity.

What are the features of a Predictive Dialler?

Faster Dialling
A Predictive dialler makes the calls for you, so reduces the need for manual dialling and the downtime that comes with it. Based on the parameters set, it will work out who needs to be called and then schedule in a call back when the time comes.

Back-To-Back calls
Being a predictive dialler, the calls do come through quicker so the downtime between calls is reduced, also resulting in higher staff productivity. You can set a fetch amount of calls that the system has ready to dial so you can slow the numbers or calls down, or speed up as and when required.

Large Data Lists
Being able to make more calls helps with getting through bigger lists quicker. The more staff members you have on at one time, the system will recognize this and ensure that the lists are called in the most productive way.

Voicemail Detection
With Voicemail detection turned on, only live calls will be placed to your staff. This will help with productivity and efficiency.

The Benefits of a Predictive Dialler

Increase Productivity
Minimising the downtime between calls will help increase call volumes and connection rates. The system will only feed the live calls through and allow staff to maximise their time.

Get through lists quicker
When you are running a large campaign, you can get through lists quicker as it can dial more people at one time.

Increased Connection Rate
With the system dialling automatically, your team will only ever receive the live calls meaning their connection rates will increase.
Why Trust Us?
Cost-effective contact centre solutions, with superior service and support levels, is part of the MaxContact difference.
With an Australian-based support team that goes above and beyond, you'll be sure we've got your back every step of the way.
Backed by an aggressive product roadmap, and our in-house development team, you'll be sure that you're future-proofing your investment.
FAQs
Potentially. Our team have done many integrations with custom software. The first stage is to start a conversation to see what can be achieved.

All of our integration work is carried out by our in-house development team.

Yes, predictive diallers are legal. There use is governed by strict regulations by governing bodies such as ACMA (in Australia). MaxContact is designed with compliance as a key component.

Auto dialler refers to the general term of Automatic Dialling; that being the automatic placement of outbound phone calls. This term covers all types of Automatic Dialling; Predictive, Progressive/Power, and Preview Dialling. In contrast, Predictive Dialling is specific to the unique dialling type of predictive. This is the fastest mode of dialling out of all of the auto dialling modes.

To Read more on Diallers, check out our blog on Auto Diallers: Everything You Need To Know
What else do we offer?
Other Solutions Available
Check out what other solutions are available within MaxContact and how they can help grow your business.
Does your Contact Centre Platform measure up?
MaxContact is the ultimate Call Centre Software built entirely around your business's individual needs.

Whether it's outbound, inbound, blended, Omni, or a mix of them all, you can manage multiple interaction channels via an easy-to-use management portal – all converged in one solution.