Contact Centre Solution's Designed For BPOs
MaxContact's experience working with Business Process Outsources (BPOs) has led to a contact centre solution designed and built to meet the high, and often unique, demands of the industry.
Servicing clients with MaxContact
In an ever-competitive market, it is important that BPOs give themselves every advantage in winning, and servicing, clients. Partnering with MaxContact will enable BPOs to meet the demands of clients, provide exceptional service and balance the costs to win the business.
Have the ability to provide your clients with multiple customer touch points which in turn generate you more revenue. With other offerings including: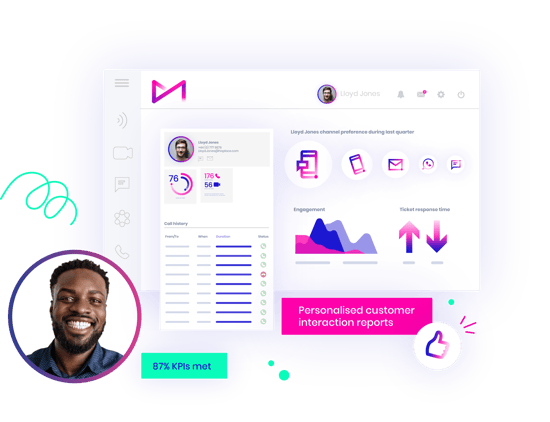 Limitless
With unlimited campaigns, lists, dashboards, wallboards and reporting there is no limit to the number of clients you can onboard and run simultaneously on MaxContact.

MaxContact's tagging feature will allow you to segregate client data within the system, while granular permissions will ensure access is controlled to users who can see certain data sets.

Real-time statistics will show how the call centre is performing at that specific moment and allow you to make business decisions based on your KPIs. Taking advantage of tagging, and real-time wallboards, will allow you to give client access to key campaign information.

Each client you onboard as a BPO will have unique requirements and subsequent configuration needs. Every campaign in MaxContact can be uniquely configured to meet the demands of your clients.

As a true cloud solution, MaxContact offers scalable licensing which will allow you to scale up and down to meet the flexible demands of the BPO industry.

Having effective, blended campaigns will maximise agent productivity and also customer experience. Campaigns can be staffed to keep inbound call wait times to a minimum, while also working through outbound contacts to ensure the campaign is efficient.

Each client will require their own unique reports to monitor KPIs in their campaign. MaxContact provides a large range of standard reports, with the ability for customers to use the report builder feature to create your own bespoke reports.

Being a true cloud solution, and hosted in Microsoft Azure, MaxContact has access to data centres around the globe. This guarantees your client's data is secure and provides automatic failovers and data sovereignty. Combined with global carrier arrangements for low-cost calls, this gives you a true holistic solution to service your clients.
Nice to see you, Lets connect!