Speech Analytics For Call Centres
Monitor, analyse and assess interactions to increase productivity, quality assurance and compliance.
Book A Demo
Never miss a word and measure the sentiment of calls
MaxContact's Speech Analytics will monitor and analyse your interactions to give you a holistic view of each agent's performance, which can then be measured against targets.
Positive or negative words and phrases can be highlighted to measure sentiment in the call, which provides an overall view of the interactions and can be displayed in easy–to–digest formats such as on Live Dashboards.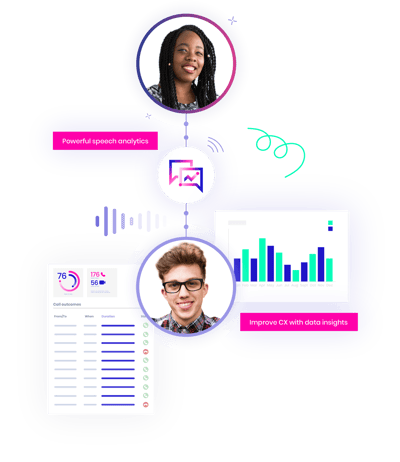 Quality Assessment
Grade calls against Quality Assurance forms which have been engineered to suit your business requirements, ensuring you are assessing your key criteria. Forms can be delivered as a matter of course to the QA team and interactions can automatically be categorised by type – for example, complaint or compliance.

Increase compliance
It is impossible to listen to 100% of calls in a call centre for compliance, quality and best practice without the aid of speech analytics. MaxContact's Speech Analytics will monitor 100% of interactions, allowing you to maintain high compliance standards while also reducing staffing costs.

Promote performance
With 100% of interactions being monitored and able to be checked for cross–selling opportunities, objections and best practices for closing calls, the performance benefits are endless. This information can be filtered down and used in agent training to ensure they are maximising efficiency in the future.

Agent feedback
Agents can quickly be presented with their scores so that they can self–assess and learn from suggested improvements or areas that are causing concern.

Trend analysis
Delve into historical reporting to improve understanding of what is causing interaction volumes and subsequently what is holding the contact centre back from hitting KPIs and SLAs.

Affordable enterprise solution
MaxContact's Speech Analytics software is available at an economic monthly cost, meaning your business can increase customer experience, compliance and agent performance without breaking the bank.
What else do we offer?
Other Solutions Available
Check out what other solutions are available within MaxContact and how they can help grow your business.
Get Started with your 30-day Free Trial Today!