Omni-Channel Customer Service Soltutions
Seamless transition between digital channels and voice to improve customer experience
Book A Demo
Engage with customers via their desired channel
Bring all your communication channels together in one place. MaxContact's Omnichannel solution encapsulates voice, web chat, email, conversational SMS, Facebook Messenger and WhatsApp within the same platform. This empowers your customers to be served via their desired channel with simplicity and consistency in mind.
MaxContact's Omnichannel solution is used by contact centre and customer service teams to deliver a modern customer experience whilst handling conversations more effectively. The customer of today expects to be able to communicate with a brand on their terms; this includes using their channel of choice and incorporating asynchronous messaging.
By offering an Omnichannel service, you're bringing your brand on point with the modern customers' expectation. This helps with customer retention and service as the customer of today has the power to move their custom elsewhere if they are not happy with the service on offer.
Highlight customer trends and stay on top of the customer experience with advanced reporting and analysis so that your team can make data-driven decisions to improve customer and employee experience.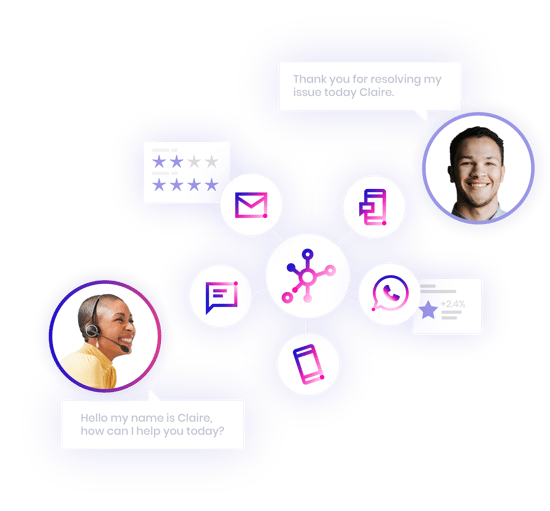 Skills based routing
Need certain interactions to go to particular agents? Not a problem. Skills–based routing is available on all channels.

Last agent routing
Route interactions to the same agent that the customer previously dealt with, providing that all–important continuity and enhancing customer experience.

Switch between interactions
Agents can seamlessly switch between interactions, for example moving from a web chat to a voice call.

Faster resolution
Allow customers to contact your company via their preferred line of communication and increase first contact resolution.

Optimise agent productivity
MaxContact's easy–to–use agent interface allows users to become accustomed to one system, giving them that familiar consistency across multiple interaction channels while being able to handle multiple interactions at once, to really boost their productivity.
What are the benefits of using our Omnichannel Solution?
Converging all channel interactions into one platform ensures a better customer and agent experience. The customer journey is in one place and negates the need for the agent to juggle multiple platforms and helps deliver a quick and more effective response.

Allow your brand to cater for the modern customer by offering multiple contact points for the customer to communicate on their terms.

Have full visibility of the customer journey so you can tailor your conversation and be prepared based on previous customer interactions and capture CSAT ratings to help improve your service.
Omnichannels supported by

MaxContact

Web Chat
Provide instant messaging from your website. Brand the web chat to suit your brand and have pre-chat questions configured to better understand the customer's need.

Voice
The traditional method of communication that still handles a high percentage of customer interactions today. Works in a blended environment and all digital channels can be seemlessly transferred to voice if the interaction requires it.

Email
Tired of working out of a shared inbox? Incorporate email in MaxContact to ensure all emails are being dealt with and within your desired SLAs.

Conversational SMS
Have two-way SMS conversations with your customer and prioritse messages based on urgency.

WhatsApp
Have two-way conversations with customers via WhatsApp, one of the world's leading communication platforms, all within MaxContact.

Facebook Messenger
Roughly 37% of the world's population is on Facebook. Open your brand up by utilising Facebook Messenger within MaxContact.
Want to understand the power of Omnichannel?
Book a demo to see how you can take your business to the next level with MaxContact's Omnichannel Engagement software.
Book A Demo Today
Frequently asked questions
Do we have to use all the channels that are available?

No, the beauty of the MaxContact Omnichannel solution is that you can pick and choose the channels that you wish to use. You can also turn them on and off, for example, you may have a seasonal business and find that demand is higher at certain times of the year and as such you need to open more channels to handle the customer demand.

Is there an additional cost for channels?

No, all channels are included in the MaxContact license. There are some third party and usage charges that are applicable, such as outbound SMS usage.

Can I decide which employees have access to certain channels?

Certainly. MaxContact is permission and skill-based so that you can determine who gets access to which part of the system. You can also determine their capacity so that employees only handle a maximum concurrent number of channels at once and don't get overwhelmed with interactions.
What else do we offer?
Other Solutions Available
Check out what other solutions are available within MaxContact and how they can help grow your business.
Does your Contact Centre Platform measure up?
MaxContact is the ultimate Call Centre Software built entirely around your business's individual needs.

Whether it's outbound, inbound, blended, Omni, or a mix of them all, you can manage multiple interaction channels via an easy-to-use management portal – all converged in one solution.