Knowledge Management
Purpose-built knowledge management software to effortlessly deliver the correct answers for agents and customers.
Book A Demo
What is Knowledge Management?
MaxContact's premium knowledge management solution is widely trusted by contact centres globally. It is designed with the contact centre agents and customers in mind, providing them with quick and easy access to accurate information without the hassle of navigating through lengthy and confusing documents.
Feature-rich yet easy-to-use interface, it acts as a single source of truth that seamlessly integrates into the existing contract centre toolkit. It delivers answers to the customer through any communication channel an organisation chooses to interact with their customer. By leveraging Knowledge Management, contact centres can reduce onboarding, improve average Handling time (AHT), increase speed to knowledge, and enhance compliance and customer satisfaction.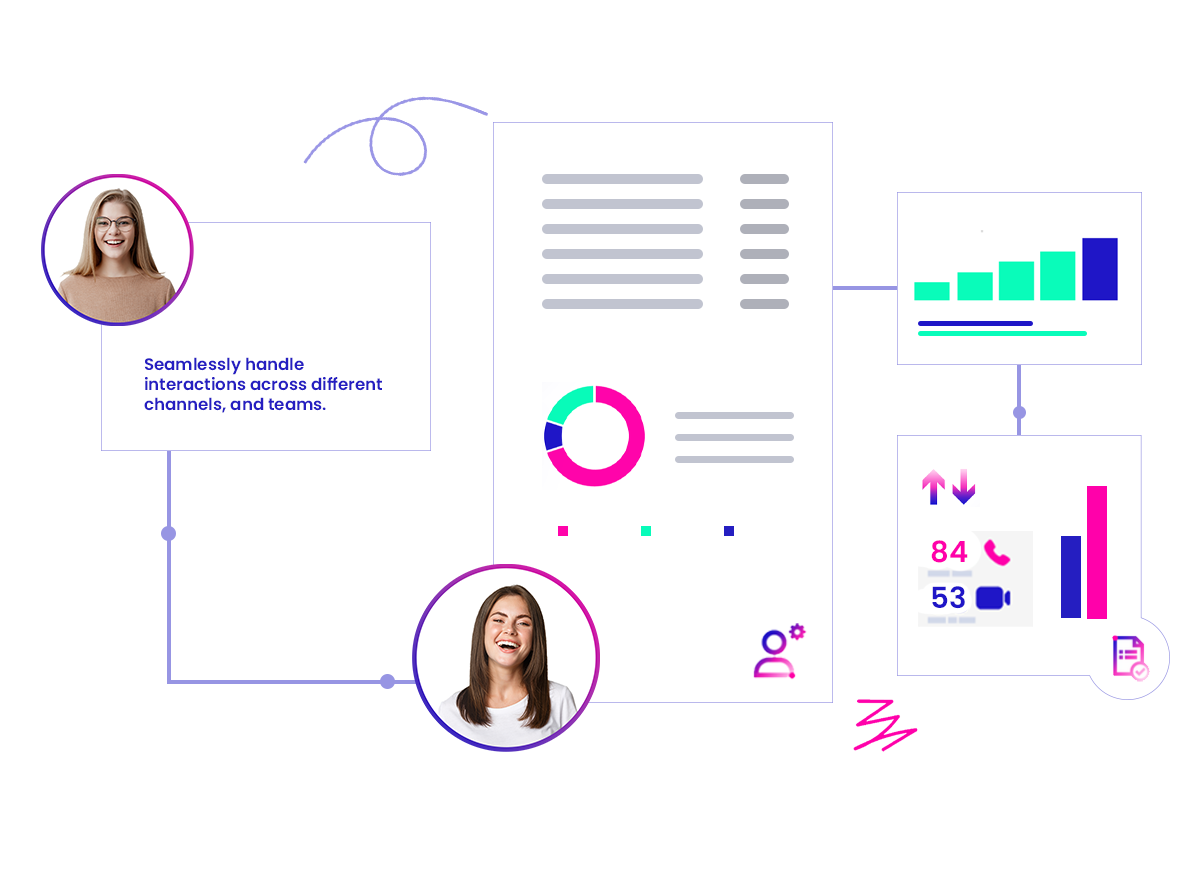 Why Invest In Knowledge Management?
The customers of today demand accurate answers in a timely fashion. If they can't be met with a strong answer then they will look to take their business elsewhere.
In a rapidly evolving world, you understand that answers can change in time and what may have been correct yesterday, is now out of date. Using traditional methods such as Word documents, files and share file systems is no longer good enough. Agents need to have up to date, authentic answers that are easily reachable whilst maintaining a strong conversation with the customer.
The Knowledge Management software is available 24/7 and is easily accessible for agents who are on the front line and dealing with customers.
Our Knowledge Management software sits within the contact centre and allows the agent to navigate through to the correct answer in a number of ways;
1. Global Search - The agent may enter a search time that will quickly scan the articles to provide the correct answer.
2. Dynamic Branching - The agent may start at a set subject before clicking to navigate through the following terms in a logical way.
Articles are pre-written and loaded into the Knowledge Management software by your authors. Don't worry, our training covers this! Only approved users may upload articles; this is vital as it ensures that there is accountability as to what is published for use. All articles are governed by an audit trail which will log all revisions, who by and when.
Agents and end-users can submit recommendations to articles to be reviewed by authors who can then either approve or reject the update. This is very useful when end-users may notice some items that are incorrect.
As pioneers in the contact centre industry, we have always looked to develop and stay ahead of the market when it comes to our offerings. This has led us to have an open-mind methodology when it comes to working with the best partners in the market.
We understand the need for our customers to have access to the best technologies to stay ahead of their competitors. By working with only the best vendors we can assure our customers that they will have access to the best purpose built knowledgement system on the market.
Frequently asked questions
Giving your agents access to a purpose-built Knowledge Management system can allow them to provide quick and accurate answers to customers. This reduces AHT whilst improving FCR and compliance.

Yes! By having access to a live system with up-to-date, accurate answers, you can reduce onboarding time for new agents and allow them to start handling live interactions quicker.

No – but like all software appropriate training is supplied to ensure that users are proficient in the software. Our team is here to walk you through this and ensure that you become a product champion!
What else do we offer?
Other Solutions Available
Check out what other solutions are available within MaxContact and how they can help grow your business.
Are you ready to empower your agents and reduce your new starters' onboarding time?
Take a tour of our Knowledge Management System to see how you can deliver accurate answers in a timely fashion.
Witness the power of Knowledge Management